Friction Material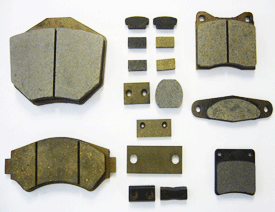 Knott Brake Company offers a line of light to medium duty brake lining material; from milled rubber to molded products we are certain that we can offer a brake friction solution to meet your needs.
Our production facility can mold most parts net shape and for those that cannot secondary operations are no problem.
If you need molded friction for block and pulley brakes, friction washers or you just want to buy brake lining material with our fully staffed on-site laboratory and testing facility we are confident that our quality will meet your expectations.