Band Brake Systems & Solutions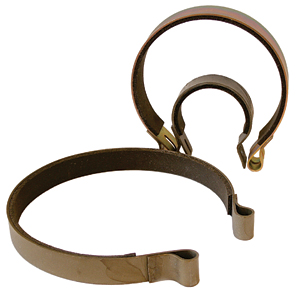 Custom Band Brakes
We carry a huge selection of cost-effective and high-quality band brakes for a variety of multiple braking band applications. If you're looking for a long-lasting, premium band brake system, look no further than Knott Brake. We have been providing high-quality, customer-focused solutions for more than 80 years to many industries.
What Are
Band Brakes
?
Also referred to as a simple band brake, a band brake is comprised of friction material that tightens when the brake is applied. The material, or brake bands, wraps around the brake drum, ceasing movement. A brake band needs to endure a moderate amount of pressure and tension throughout the braking process. Most brake bands are made from steel or iron with an inner housing of resistance material.
The majority of band brakes are single-acting, known as a simple band brake. However, Knott Brake also carries double-acting band brakes for specialized needs.
How Do Band Brakes Work?
A band brake system resembles a drum brake system, except instead of using brake shoes to press against the inside of a rotating drum, the band brake uses a flexible band on the outside of the drum.
When the brakes are initiated by pulling or pushing a lever, this creates tension in the band. The friction from the band brake assembly causes the drum to slow down and stop.
Where Can I Use Band Brakes?
Band brake systems are used in a variety of applications, including:
Parking brakes in vehicles

Bicycle braking systems

Power and chainsaws

Automatic transmissions clutches

Go-karts and mini-bikes
A band brake system is typically used as a secondary brake method on larger machinery. 
Do I Need A Band Brake?
If you're looking for a braking band system that is designed with simplicity and for endurance, a band brake assembly system may be right for you. Band brakes have fewer moving parts than other kinds of braking systems, making them easier to maintain. With regular rust cleaning and basic maintenance, a band brake system can endure for several years.
Find Your Band Brake System at Knott Brake
Knott Brake carries a broad selection of brake bands. We are a leading source for brake components, and we can customize a brake band system to your particular specifications in terms of size, required load, and materials. 
Explore our cost-friendly band brake options and contact us with any questions at 1-800-KNOTT-US