Wet Disc Brakes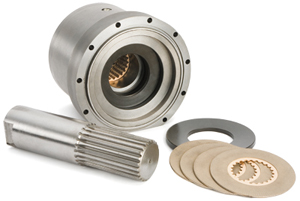 Wet Brake Options Customized For Your Needs
Regardless what type of machinery you're running, you need wet brake systems you can rely on. Particularly critical when operating heavy machinery, wet brakes are trusted and relied upon across the board in a variety of industrial brake applications.
Knott Brake has been providing high-quality, customer engineered solutions for more than 80 years. We provide customized mechanical, hydraulic and hydro-mechanical wet disc brakes for all your wet brake system needs. We will help you find the best wet brakes to improve your productivity, navigate contaminants and decrease service needs.
What Is a Wet Disc Brake?
Wet brake systems use multiple discs which are oil-cooled. This oil allows the wet disc brake to maintain a low temperature while providing immediate stopping action, even during extreme conditions. The multiple discs in wet brakes are the key to stopping power in even the most heavy machinery.
Why Use Wet Brakes?
Wet braking is the key for heavy machinery to brake efficiently in harsh conditions without reducing stopping power. 
Wet brakes are placed internally in the differential of the machine or vehicle. This is why wet brake systems aren't affected even in the harshest conditions and are protected from elements including excessive water, dust, mud and moisture. Wet disc brakes are positioned within oil or transmission fluid and use hydraulic pressure for stopping.
Wet brakes are known for their reliability and low-maintenance. By using high-performing hydraulic fluid you can ensure your wet brake system will have optimal performance while requiring little fine-tuning and maintenance on your machinery.
Wet Brakes Vs. Dry Brakes
Wondering what the advantages of wet brake systems are over dry brakes? Here's a snapshot of some of the reasons wet brakes might be the right choice for you:
Wet disc brakes

are positioned internally and not exposed to the elements, while dry brakes are positioned externally. 

Because of their secure positioning,

wet brake systems

generally require less maintenance because external environmental factors won't occur.

While ideal for cars, trucks, or SUVs, dry brakes are not the best options for heavy duty equipment and machinery. The stopping power a

wet brake

offers heavy machinery far surpasses dry brakes, particularly in wet conditions. 

Wet brake systems

use multiple discs, which distributes the stopping pressure evenly. This is a key advantage for heavy machinery requiring intense or frequent stopping. This multi-disc system helps with reducing the frequency of adjustments and repairs on equipment. Dry brakes consist of a single disc or drum, often leading to the braking systems heating up more quickly and requiring more maintenance under complex use.

Wet braking systems

are more cost-effective. Since the

wet brakes

are immersed in oil, both they and the parts surrounding them stay cooler and have fewer maintenance needs. Your

wet brake system

will far outlast a dry one, making the

wet brakes

a better investment.
Find the Right Wet Disc Brake for Your Equipment
Our custom wet disc brakes are fully enclosed and run in oil, providing your machinery the greatest service life for your brake system. 
Our selection of wet disc brake systems offer:
Diameters ranging from 4 to 10 inches

Braking torques up to 8000 Newton metres (Nm) are available in the ball ramp designs

Braking torques to 22,000 Newton metres (Nm) for annular designs

Mono & multi-servo designs
Knott Brake carries a vast selection of ball ramp wet disc brakes available for order, available in hydraulic, mechanical, or hydromechanical activation. Check out our various designs of wet disc brakes and contact us with any questions.
• Diameters from 4 to 10 inches

• Braking torques up to 8000 NM for ball ramp designs

• Available in Mono & multi-servo designs

• Braking torques to 22,000 NM for annular designs