Brake Lining Material & Friction Discs for Sale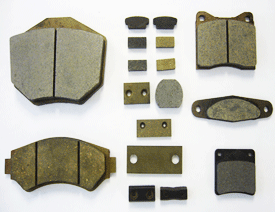 Knott Brake Company offers a line of light to medium duty brake lining material; from milled rubber to molded products and pulley systems we are confident that we can offer a brake friction solution to meet your needs and can benefit a variety of off-highway vehicles. Our custom brakes work in various industries, such as farm equipment within the agricultural industry or heavy-duty, armored vehicles in the defense industry. They are designed to withstand the rugged terrain or harsh elements. 
The Knott Brake Difference – Custom Braking Solutions
Our production facility can mold most parts net shape and for those that cannot secondary operations are no problem, making custom solutions for your vehicle possible. Each custom braking solution is designed to provide a unique way to stop and maneuver your vehicle. 
If you need molded friction for block and pulley brakes, friction washers or you just want to buy brake lining material with our fully staffed on-site laboratory and testing facility, consider Knott Brake. Our molded rubber and quality materials will give you peace of mind and keep your heavy-duty braking systems running at maximum efficiency. We are confident that our quality will meet your expectations.