Hydraulic Disc Brakes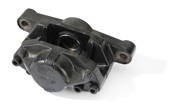 Premium, Custom Hydraulic Disk Brakes
Knott Brake's specialty hydraulic disc brakes are some of the most efficient disc brakes on the market. Featuring a closed system of reservoirs, each hydraulic disc brake securely seals hydraulic fluid to allow for quick braking at the most crucial moments. These annular disc brakes include calipers that range between 2 to 6 pistons; upon ordering, you'll have the option to discuss your preferred amount for the brake. Hydraulic solutions, unlike mechanical disc brakes, don't rely on a brake cable. Instead once activated, a plunger pushes hydraulic fluid through the hoses and into the caliper. This then causes the hydraulic disc brake pads to collide with the rotor and bring the vehicle or machinery to a complete stop. 
Our hydraulic disk brakes feature the following specifications:
Peripheral forces that can reach up to 276,000 N

Disc thicknesses that can be modified to be 13 to 45mm

Disc diameters that can be as low as 200mm and as large as 1200mm
If you're interested in adding new hydraulic disc brakes to your machinery, fill out the form shown to request more information. And, if you have any questions about our hydraulic discs or other special solutions, please contact us and we'll be happy to help.
• Disc diameters from 200 to 1200 mm

• Disc thickness from 13 to 45 mm

• Peripheral forces up to 276,000 N