Material Handling Equipment – Tow Motor & Forklift Brakes
OSHA guidelines make it mandatory to inspect forklift brakes and other material handling equipment's brakes pre-shift each day. Not only is it required by law, it's also smart. A forklift brake malfunction could lead to serious injury or death. This inspection should include making sure the brake pedal doesn't fall to the floor but has enough resistance to ensure a safe stopping distance. The parking brake must hold a fifteen percent grade — minimum, and the Deadman switch has to hold when the operator stands up from the seat.
Determining if It's Time to Replace Forklift Brakes
Once you've done the pre-shift inspection, you may find the forklift's brakes didn't pass muster. That's a good indication something's wrong and in need of repair. But there are a couple of other questions you can ask that'll aid you in deciding whether to replace the brakes:
Do the Forklift Brakes have More than 5,000 Hours of Use? Dust and debris accumulate on the edges of warehouse vehicle brake shoes and cause ridges to form. Early detection will allow you to smooth some of these out for extended life, but by 7,000 hours, it's time to replace them.
Does the Forklift Stop Too Quickly? Stopping too quickly is another sign something is wrong. Carrying no weight and traveling at 7mph, your forklift's brakes should stop the vehicle at about sixteen feet.
The Causes of Early Forklift Brake Failure
All driving conditions are different, and the work performed by each forklift is different, but there are some common reasons for early forklift brake failure:
Forgetting to Release the Parking Brake
Not Allowing Enough Time to Slow Down, thus Braking Aggressively
Riding with a Foot On the Brake
Damaged Hub Seals or Wheel Cylinders Causing Hydraulic Fluid to Spray on Brake Shoes
When It's Time to Replace Forklift Brakes, Call on Knott Brake
No one likes to waste time trying to find the dealer's phone number and call, only to find out they no longer carry forklift rear brakes and replacement parts. Many forklift dealers and parts stores have limited space to devote to forklift brake parts. And, with so many kinds of industrial vehicles to service, you may be the odd one out. Where do you turn? Call on Knott Brake for all your forklift brake and other warehouse vehicle brake needs. Knott Brake has the most complete line in the industry and can offer solutions to many different material handling applications when others can't.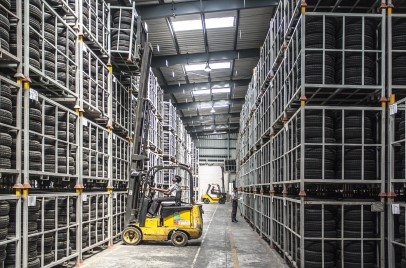 Shop Categories for Material Handling
Frequently Asked Questions About Forklift Brakes
At Knott Brake, we love to answer your questions and help you make the best choices for your machinery and business. Here are a few common inquiries about forklift brakes.
Forklift Brakes Not Working Properly — What Should I Do?
If you discover your forklift brakes are not working properly during your pre-shift inspection, the first thing to do is to turn off the motor and remove the key. In NO CIRCUMSTANCE should it be operated until the forklift brakes are repaired. Once the key is removed, block the forklift so it cannot roll. Inspect the brakes and determine the reason for the failure. If the brakes need replacing, Knott Brake has the widest selection in the industry.
How Often Should I Perform Regular Maintenance on My Forklift Brakes?
To be proactive and save headaches down the line, we recommend performing regular forklift brake maintenance about every 250 hours of service by blowing out the brake dust. Then, after 2,000 hours, a technician with forklift brake expertise should perform a more thorough inspection with the drums pulled.
What Are the Main Parts of a Drum Brake?
The main components of drum brakes are similar across many forklift brake designs:
Brake Drum: Cast-iron housing that stops the vehicle
Backing Plate / Torque Plate: Base for the other components
Brake Shoes: Friction-source material that contacts the forklift brake drum
Wheel Cylinder: Hydraulic component that forces the shoes to contact the drum
Return Springs: Retract the brake shoes when the brake pedal is released
Self-Adjusting (Distancing) System: Readjusts the distance the forklift brake shoes must travel to contact the drum as the shoes begin to wear.
Knott Brake Has the Right Forklift Brake Parts You Need
With the largest selection of forklift brake parts in the market, Knott Brake can answer: "YES, we have that!" when so many others say, "Not in stock." Knott Brake is ready to supply you whether you need a disc, mechanical drum, hydraulic or custom forklift brakes. Providing braking solutions in the USA since 1987, our customer-focused strategy has its roots extending back to Eggstatt, Germany. Reach out to us today so we can find the best solutions for your forklift brake and material handling equipment needs.